[Developing Story] Nigerian Man carried off plane for opposing Tinubu's inauguration
Editor, 2 months ago
0
2 min

read
49
Advertisement
An unidentified air traveller was removed from a flight over his insistence on President-elect Bola Ahmed Tinubu not being sworn in come May 29.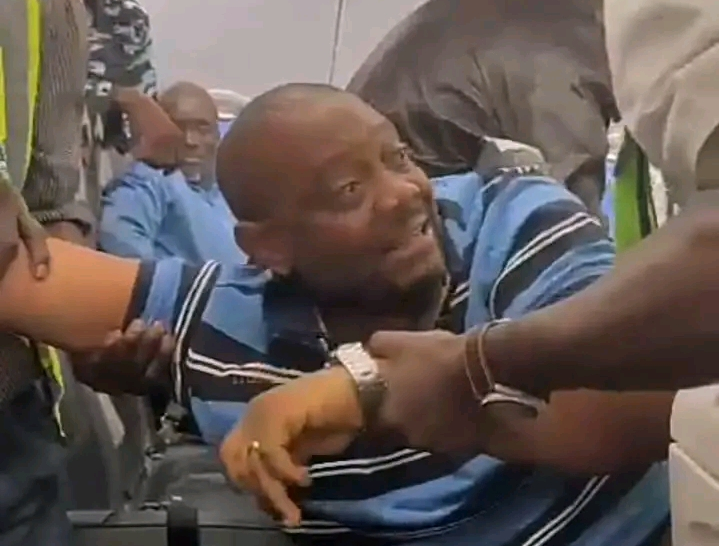 The lone protester was carried off the Abuja bound flight on Friday despite his resistance.
In the video obtained, he is heard saying "Tinubu cannot be sworn in". Then in another clip where he is being taken out, he's heard shouting "Obidients you're here. They are doing this to me. Obidients you're here, I am naked. Obidients you're here, I am going naked."
His action delayed the 6 PM flight for an extra hour, and took the effort of over five airport security officers to remove him.
NGF asks DSS to arrest interim government plotters
Advertisement
The thirty- six state governors under the aegis of the Nigeria Governors' Forum had on Friday asked the Department of State Services, DSS to immediately arrest and prosecute those it has identified to be planning to install an interim government rather than issuing statements and heating up the polity.
The governors who condemned any unconstitutional means of regime change, however, vowed to resist such move, just as they assured their commitment to continue in the defence of Nigeria's democracy as elected leaders.
The DSS had earlier in a statement said that the agency had identified some key players in the plot for an Interim Government in Nigeria but did not give the names of the masterminds.
The agency had said that the planners of the interim government had already held several meetings, during which they weighed many options to actualize their plot including sponsoring endless mass protests across Nigerian cities, securing a warrant to declare a state of emergency or a court injunction to stop the inauguration of the executive and the legislature at the federal and state levels.
(Vanguard)
Disclaimer
Contents provided and/or opinions expressed here do not reflect the opinions of The Pacesetter Frontier Magazine or any employee thereof.
Support The Pacesetter Frontier Magazine
It takes a lot to get credible, true and reliable stories.
As a privately owned media outfit, we believe in setting the pace and leaving strides in time.
If you like what we do, you can donate a token to us here. Your support will ensure that the right news is put out there at all times, reaching an unlimited number of persons at no cost to them.
Related posts
Suspend Nigeria Air, Reps to FG; demand prosecution of officials involved in aircraft unveiling
Advertisement The House of Representatives Committee on Aviation has called for the suspension of the establishment of Nigeria Air. It…
Abia's Otti Terminates All Appointments For State Revenue Enforcement
Advertisement The Governor of Abia State, Alex Otti, has approved the termination of all appointments for any type of revenue…