Advertisement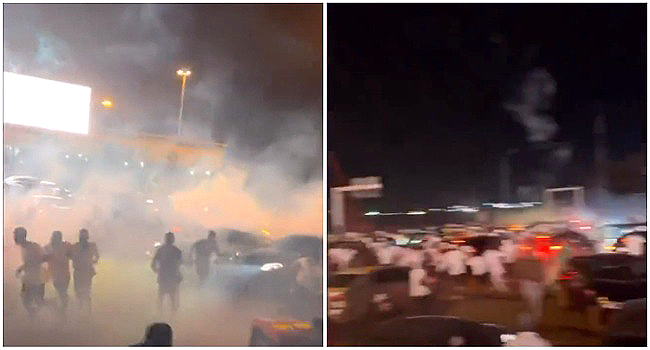 The procession to honour late Afrobeats singer Mohbad on Thursday evening ended in pandemonium as police dispersed youths who gathered at Lekki Tollgate in Lagos State.
Following last Tuesday's passing of the 27-year-old under controversial circumstances, there has been public outrage with calls for a "thorough" investigation.
The official candlelight procession in Mohbad's honour was held at Muri Okunola Park in Victoria Island with federal authorities present.
However, several videos widely shared online showed several attendees scampering to safety as police officers shot tear gas canisters at the unrelenting crowd.
The Police Public Relations Officer (PPRO) in the state, Benjamin Hundeyin, in a statement on Friday, explained that the Lagos State Police Command had an agreement with the organisers of the candlelight procession that the procession was to end by 8 pm at Muri Okunola.
Advertisement
"It was clearly stated for the avoidance of doubt that in the interest of all Lagosians and considering the heavy use of the Lekki-Epe Expressway, the Lekki Toll Gate would be a no-go area," he said.
According to Hundeyin, procession-goers strayed from the agreed perimeters of the procession, shutting down movement on the Lekki-Epe highway.
"Therefore, in fulfilment of our mandate to protect life and property, maintain law and order and prevent crimes, we adopted the least harmful method of crowd dispersal, following the failure of verbal persuasion – the use of teargas," the statement continued.
"Not a single live ammunition was fired! The police adopted crowd management best practices in engaging the unruly crowd. No life was lost neither was there any injury".
Channels TV
Disclaimer
Contents provided and/or opinions expressed here do not reflect the opinions of The Pacesetter Frontier Magazine or any employee thereof.
Support The Pacesetter Frontier Magazine
It takes a lot to get credible, true and reliable stories.
As a privately owned media outfit, we believe in setting the pace and leaving strides in time.
If you like what we do, you can donate a token to us here. Your support will ensure that the right news is put out there at all times, reaching an unlimited number of persons at no cost to them.
Related posts
After defection, Fubara holds emergency Exco meeting, as SDP, APC members join PDP
Advertisement The Governor of Rivers State, Siminalayi Fubara, is currently meeting with the members of the state executive council at…